Boost your retirement plan little by little each year
It's now easier, faster and more convenient for you to save for your retirement.
Our new Auto Increase feature lets you increase contributions to your retirement plan account little by little, each year - automatically.
Simply select a date you want your increased contribution to begin, along with a specific dollar amount or percentage. Once you've chosen an amount or percentage, your contributions will increase accordingly each year automatically
To see if your plan offers Auto Increase or to enroll, log in to your account and access the Contributions tab.
Watch your savings potentially grow
With Auto Increase, we take care of making contributions for an investor automatically – a convenience that can provide long-term benefits.
As this chart shows, Auto Increase can have a significant impact on retirement savings over the course of a career. Even a $50 year-over-year contribution bump can make a big difference.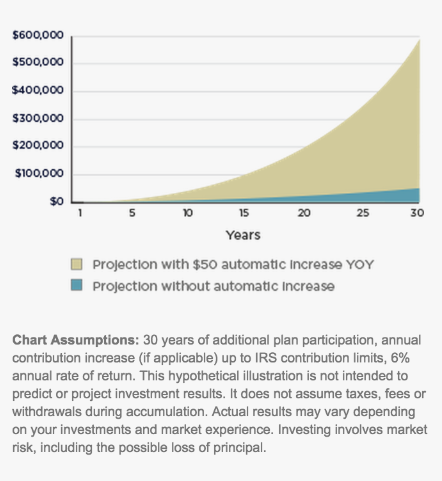 Have questions or need more information?
Call a Nationwide Retirement Specialist at 1-855-463-4977.
NRW-4610AO.1